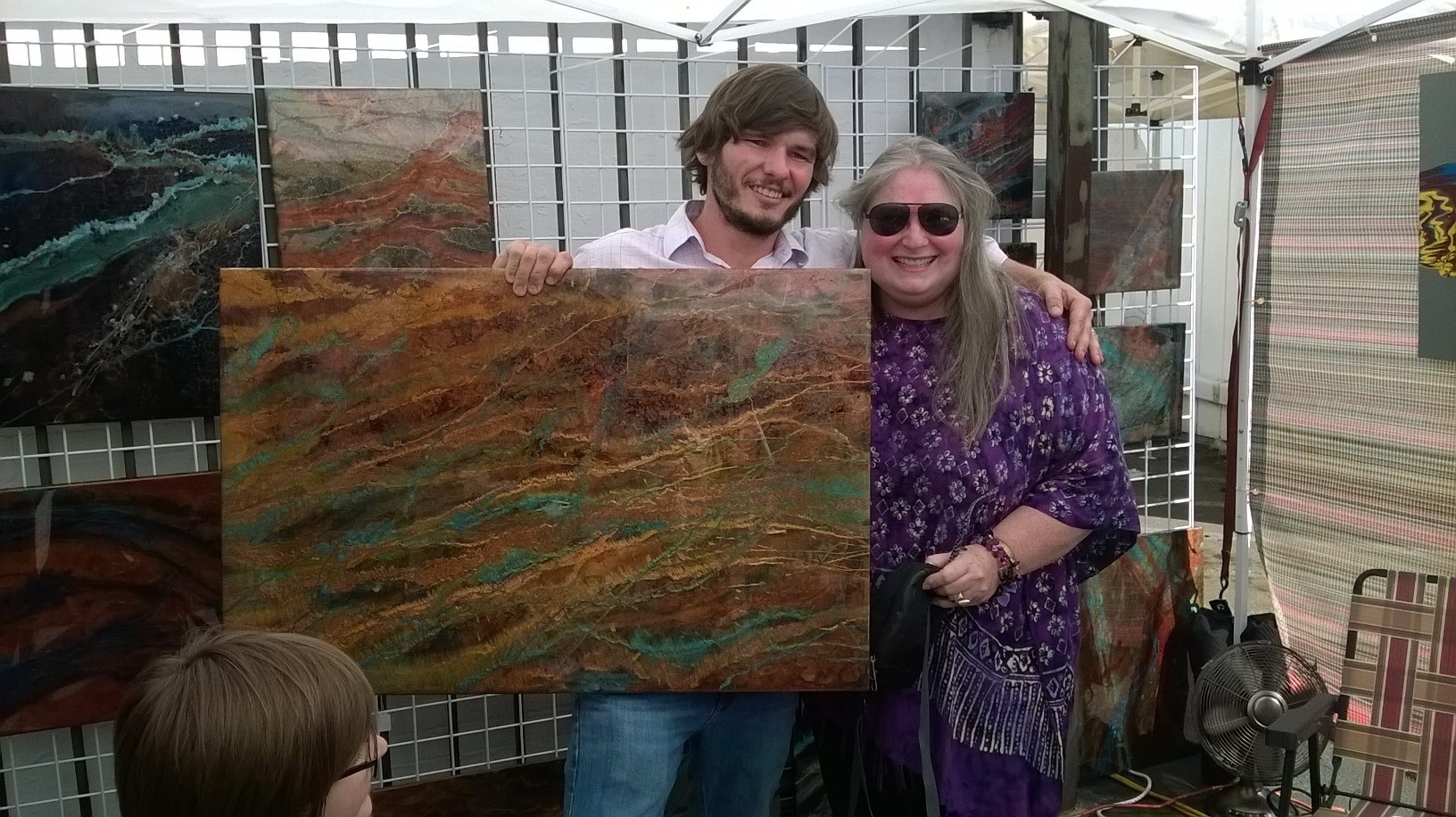 The Oct. 3 First Saturday Arts Market was was a big success. I shared a booth with fellow artist Jeff Jefferies who was extremely gracious. Thanks Jeff! The atmosphere was a lot of fun, and in spite of slower foot traffic than normal, both Jeff and I were really happy with our sales. This pic shows a piece that I sold to a very lovely patron!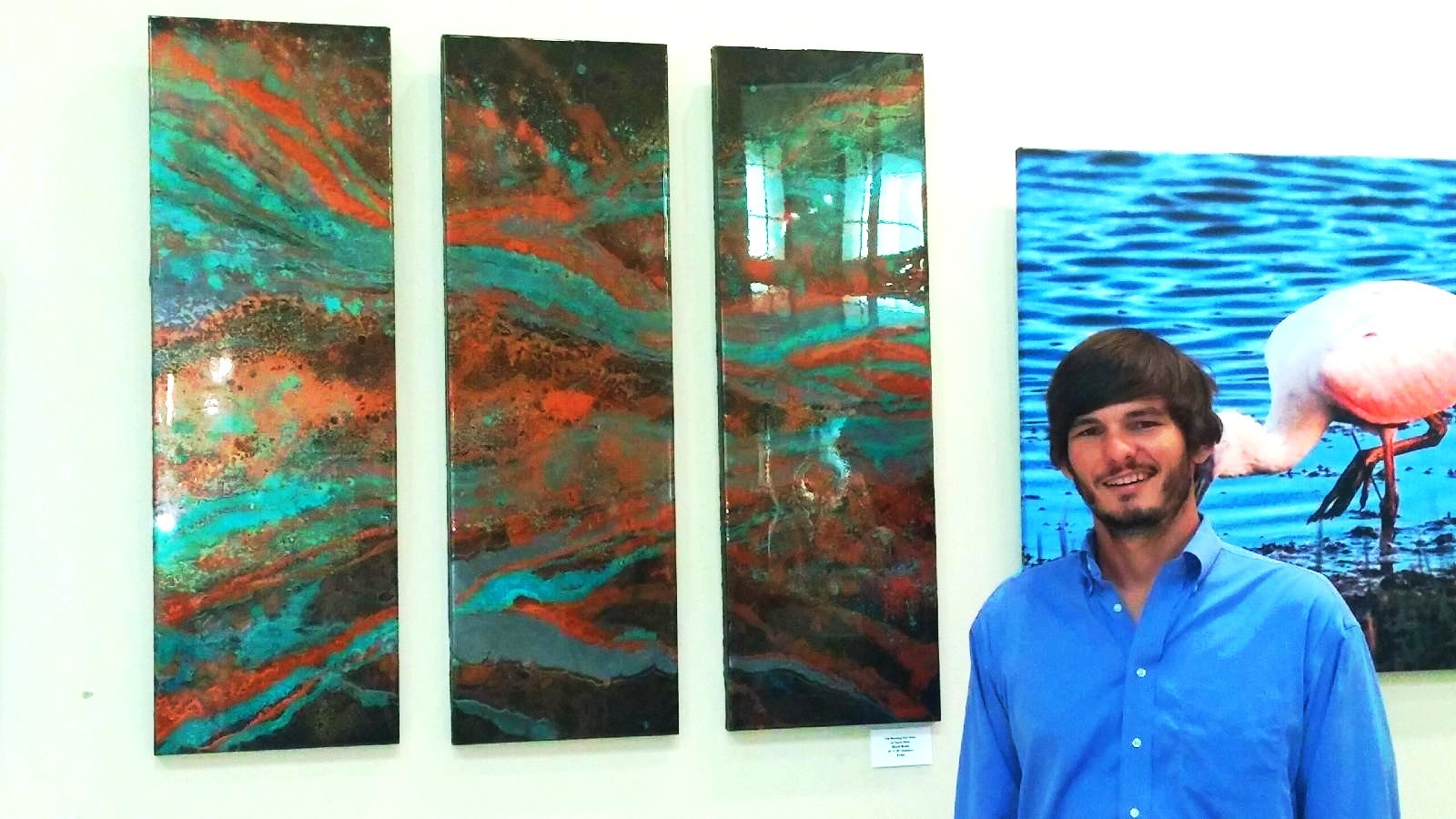 Sept. 11 - The opening reception for our group exhibition at Gallery Spectra went well. We got to know some fellow artists better and received a lot of positive feedback. This is me standing next to one of my pieces in the exhibit.

Oct. 9. We opened up a brand new exhibit at Gallery Spectra. I have three pieces on display including a 36x50 Thryptich entitle "The sons of God Shouted for Joy!" I was really pleased with the pieces displayed and the layout of the exhibit. Great job Suzanne!


Oct 10. Me and the family decided to stop by Silverstreet Studios for 2nd Saturday Open studio. We met some very talented artists and saw some great art. During our visit I was able to meet with the owner and curator of Serrano Gallery, Valentina Atkinson. She was a lovely woman and very gracious towards me and my family. After having the opportunity to converse with her and show her a few examples of my work I am excited to announce that Serrano Gallery will be exhibiting two of my recent works in their current group exhibition. For details, see www.serranogallery.com.
Oct.31-Nov. 1 What a weekend! On Friday afternoon the Houston Fine Art Festival took over Discovery Green Park in Downtown covering the landscape with shiny white canopy tents. Artists from all over the country came to display their work in what promised to be one of the years best shows. Unfortunately... the weather put a stop to all that. We had torrential rains and flooding all over Houston on Saturday, and in spite of predictions of sunny skies on Sunday, the rain persisted all weekend. It was a huge disappointment, but I know it could have been much worse... My tent neighbor drove all the way from South Dakota! Maybe next year.
Nov. 29- I had a really neat experience this weekend. I was in Kansas City for the holidays with my family and stopped by Leopold Gallery, founded by well known art consultant and author Paul Dorrell. His book, Living the Artist's Life has been the standard guidebook for upcoming artists trying to advance their careers for more than a decade now. Leopold Gallery has a stellar reputation for innovative and quality work and boasts a client list which includes H&R Block, the Kansas City Chiefs, the National D-Day Memorial, the Sprint Center, and Steven Spielberg just to name a few, so when I got the opportunity to visit I didn't pass it up. I have never seen such a densely packed collection of aesthetically stunning and unique works of art in one place. From the gripping 3 dimensional street scenes of William Lobdell, to the brilliant oil on canvas sunsets of Gary Bowling, we were blown away with the talent and depth of the work. The highlight of my visit was getting to meet Paul in person and speak with him for a few minutes about the art scene here in Houston and about my own work. He was gracious enough to look at one of my pieces and gave me some very encouraging feedback along with a copy of his updated book. I am really grateful for the experience and for the generosity that we were shown. If you are ever in the Kansas City area, I highly recommend you take a look for yourself. To learn more about Leopold Gallery or Paul's book Living the Artist's Life, you can find information at www.leopoldgallery.com.
Dec 5 - The Artist Within exhibit at Purple Elephant Gallery went well. Thomas and I worked hard getting the space ready at Artist Within and it really paid off. I had 6 good sized pieces on display in the main area along with some of Thomas's work and three other artists, all of whom showed very nice work, shared one of the ancillary rooms. There was a good mix of Artists and art lovers. I enjoyed the atmosphere more than anything else, comfortable and relaxed, with good food and a beautiful setting in the outdoor patio area.
Dec 12 - We had a good night at JoMar Visions Art Excellence 2015. The 26 contest finalists were given the opportunity to display their work in the gallery for a one night event in which the top five entries would be announced. As I walked through the gallery and observed the talent and depth of the various artists and works on display, I felt humbled. Houston is home to A LOT of great artists, and as the awards ceremony drew near I knew that any one of the works displayed could have been selected as the winner. Joanna opened the ceremony with some encouragement for the artists and an explanation of the jury process, and then proceeded to announce the winners. My piece "Arctic Strata" was awarded 4th place! It was an honor to be recognized among such a talented pool of artists and a blessing to meet some of my colleagues for the first time.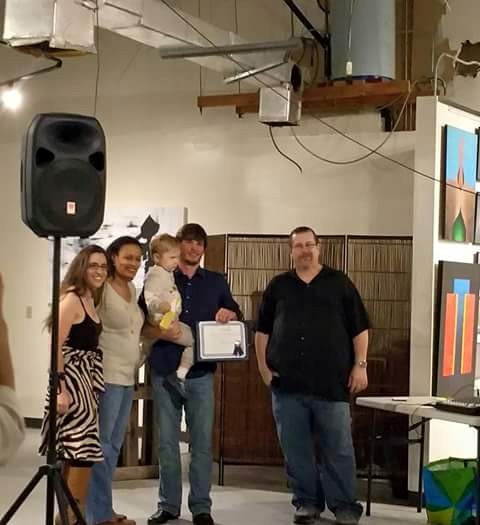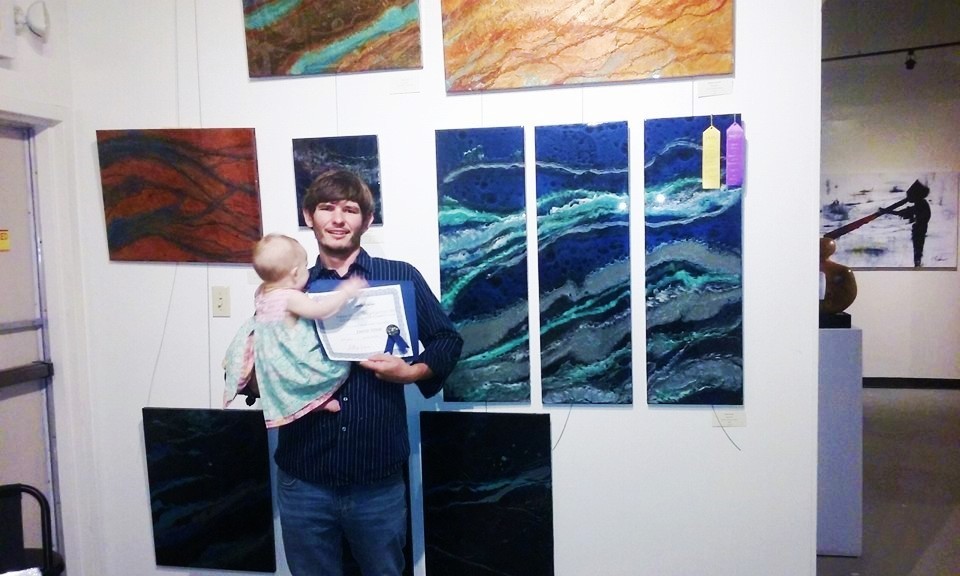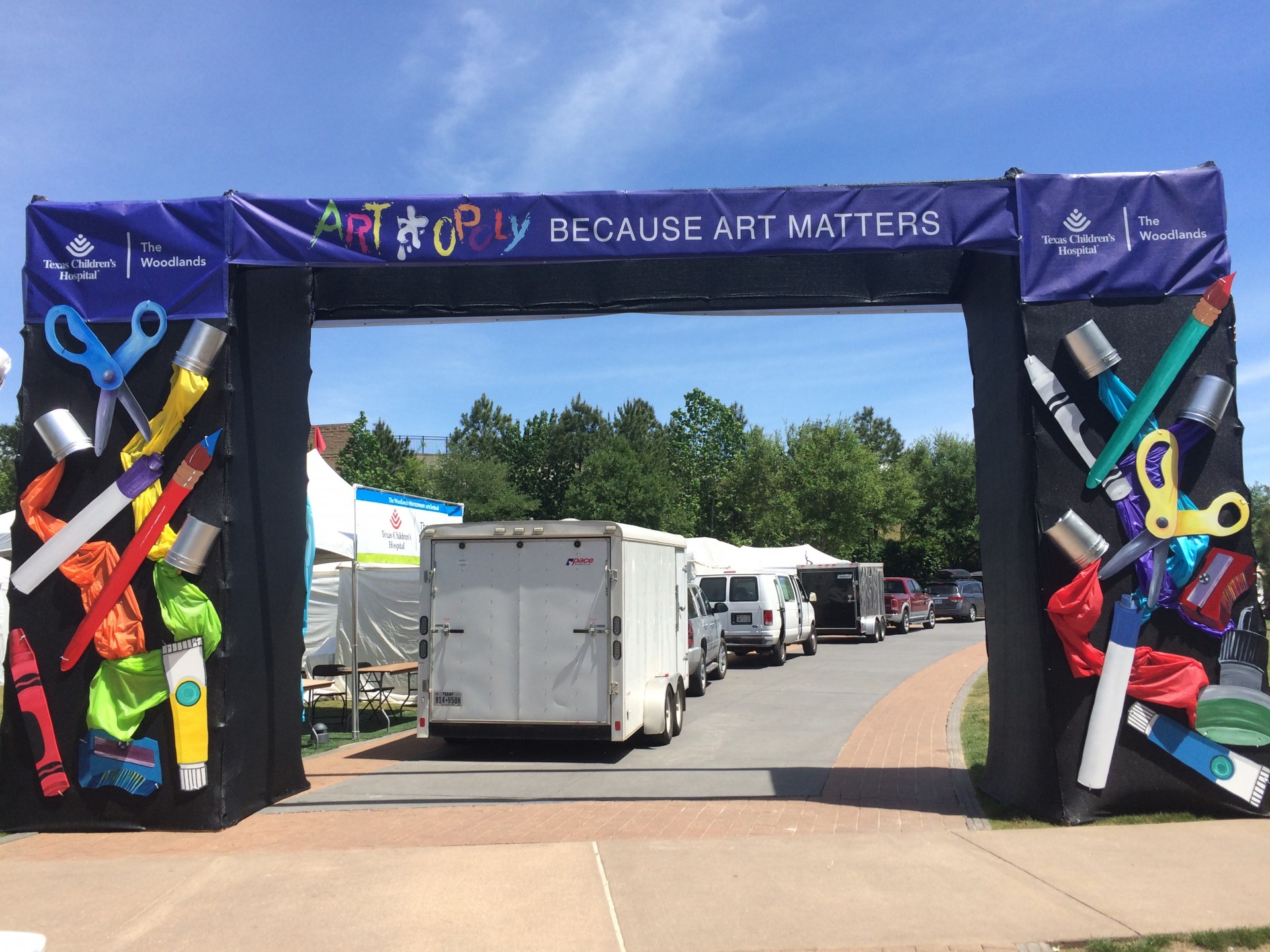 April 8, 9, and 10 - The Woodlands Waterway Art Festival was a wonderful blessing. We started off the week setting up with very kind and helpful neighbors and beautiful sunny skies. Friday was a little slower traffic day so I had a chance to walk around and look at some of the other artists' work, and it was truly world class. What an honor to be included in such a talented group!

Saturday and Sunday the festival was packed with patrons and we got a lot of positive feedback. When all was said and done, 5 pieces had found new homes, including 2 large triptychs, and we made contact with several others interested in commissions. We are very thankful.
Aug 17 -********New YouTube Channel!!!******** I have begun posting videos of my Resin art work as well as my decorative concrete work on YouTube. This is an exciting new chapter for me!. There will be process videos showing the making of some of my new pieces as well as video's showcasing various events etc. Please feel free to visit the channel and check out some of the videos. If you would like to receive updates on new video content, Please Subscribe! https://www.youtube.com/channel/UCAi7gk_l2KQ1OxQJAkWJtWA
Nov. 2 - VAA 34th Annual Juried Exhibition - We had a wonderful night with excellent art on display. My pieces "Vast Expanse" and "The Sons of God Shouted for Joy" were chosen by juror Tommy Zoya for the exhibit and I was honored to show them.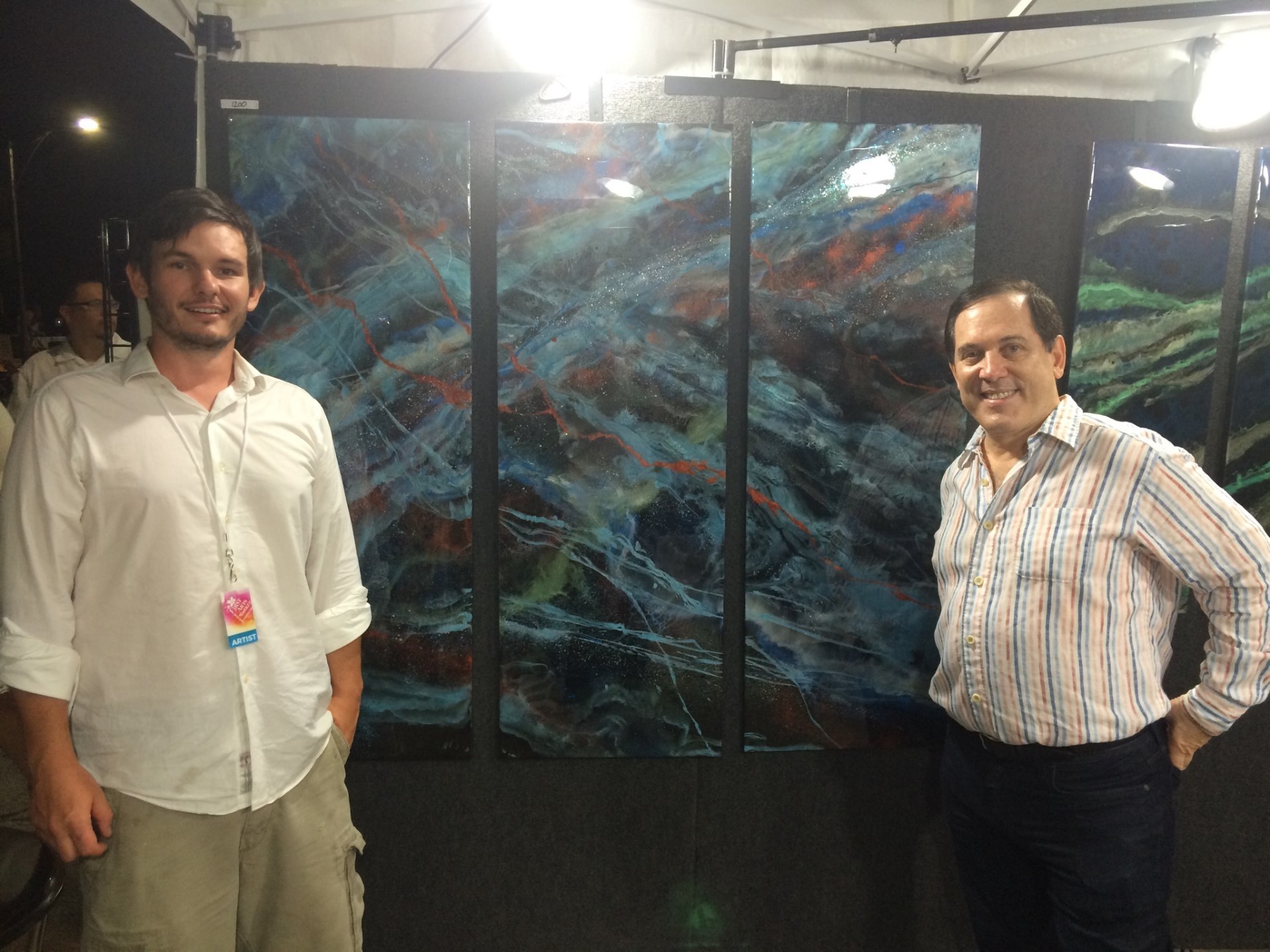 Aug. 5 - White Linen Night in the Heights - Awesome night! Tens of Thousands of people were in attendance in their finest white garb. We had a huge amount of traffic through our booth with a lot of positive feed back and several requesting follow up for commissions. This is a photo of one customer who purchased this large Triptych titled "Providence." Thanks again Harry!
November 11 - Just Installed this large abstract commission at the Nielsen Law Firm in Houston. They were very gracious and a pleasure to work with. She wrote in a recent post "This piece is so beautiful!!! We love it and it makes me happy every day!" It's great to know that my work is bringing joy to others!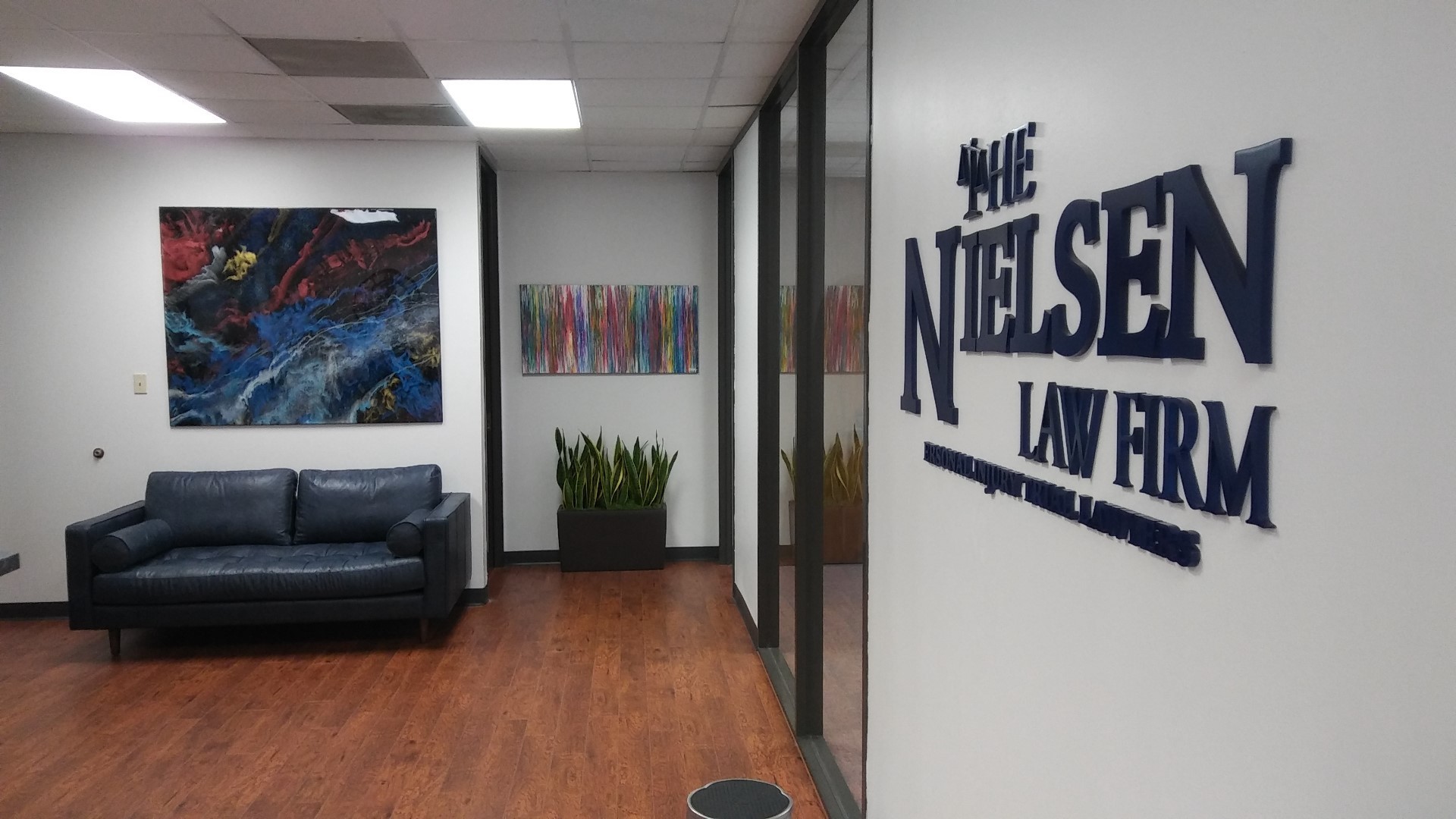 May 4 - Good day at First Saturday Arts Market. Great time to connect with some outstanding artists and artisans and to show some of my newest pieces. This was also a great opportunity show some of my resin countertop samples, which got a great response!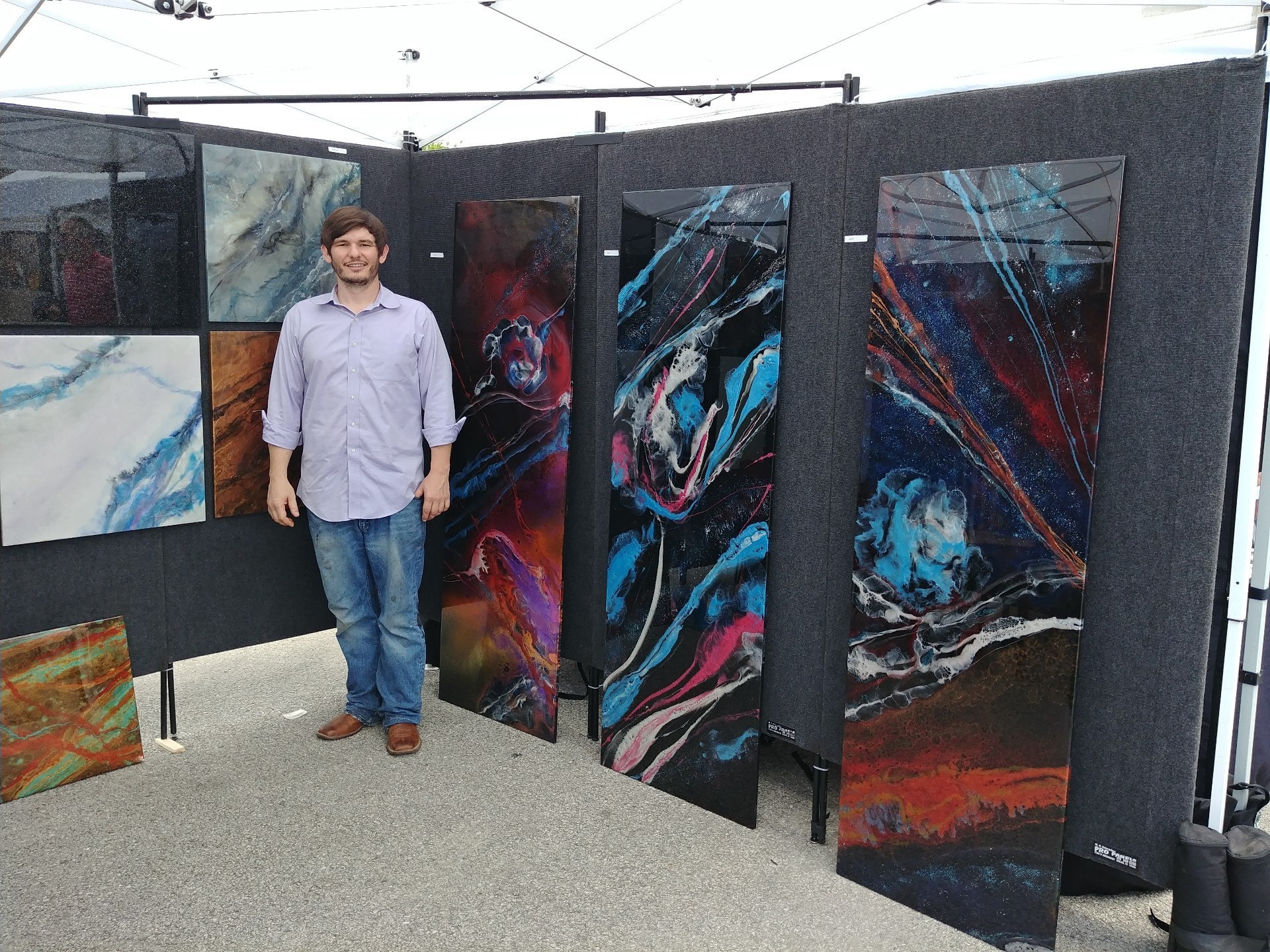 December 29 - We have done a couple of really cool functional art pieces in the las month or so. One was a set of resin kitchen countertops for a lovely family in Kingwood, TX, and the other was a resin art countertop and molded bathroom sink. Take a look!
June 19 - Just installed this large commissioned piece in a clients home. I love the bold colors and the movement of this piece! Thank you Susan B. for allowing me the freedom to create!
Sept. 8 - The YouTube Channel is really growing! This is a video I posted a few months ago showing the making of a recent piece. I have been wonderfully surprised by the great reception the video is receiving. The piece is no longer available by I would love to work with you on a commissioned piece of your very own!
December 12 - I just finished an installation of a LARGE triptych at the public house in Houston. The piece will be on display there indefinitely. This is video I did showing my process for hanging these large heavy pieces. But don't worry! If you don't want to brave it, I offer free installation on larger pieces in the greater Houston area.
March 4 - Love it when I am able to work on such a large canvas! We just completed this 10'x12' resin art floor for a very gracious client. She was looking for something to match the décor she collected during her time in Asia. What a fun Project!
July 18 - We just installed this waterfall edge resin art center island. My clients were quite adventurous and allowed me to be very creative with the design. I couldn't be more pleased with the outcome.
August 5 - We had a great night at White Linen Night in the Heights. There was a HUGE crown of people. I sold one of my newest pieces and reconnected with some old friends and collectors. Here is a short video from the evening.